Whitby's Children's House Program
(18 months – 5 years)
Whitby's Children's House program has been a pioneer in early childhood education since its founding in 1958. Classrooms are intentionally designed to support children's growth and ignite their passion for learning at a time when they are developing the most.

Register for one of our fall admission events at whitbyschool.org/visitus2019
Bridges will help you and your children to cross the first bridge from home to school and to build so many more. Bridges has provided a valuable education to our community for over 30 years. Parents and teachers work together to create an attentive environment that is responsive to the needs of young learners and their families.
Fall 2019 Meetings for parents
(without children, please)
October 3: 4:00 – 5:00pm
October 10: 4:00 – 5:00pm
October 16: 9:30 –10:30am
KING SCHOOL
King's young learners, starting at age 3, experience education as a path of discovery, understanding, wonder, and joy. These ideas are grounded in our Reggio-Emilia inspired, project-based teaching and learning program.LEARN MORE
 First Presbyterian Church Nursery School teachers are passionate about inspiring your children! They value their community of joyful children, nurturing teachers and supportive families. Complete an application HERE
Take a tour! You will see for yourself that First Presby is a truly loving and nurturing place to learn.
Sign up for a tour HERE
LEARN MORE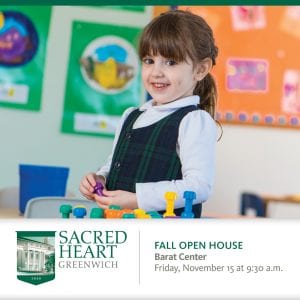 The Barat Center for Early Childhood Education is a special place on the Sacred Heart Greenwich campus. We invite prospective parents to spend the morning in Barat Center as you shadow our three-to-five year old boys and girls. During this interactive experience, you will learn about our enhanced Early Childhood curriculum, meet Head of Lower School and Barat Center faculty, and experience first-hand the learning environment and family-friendly atmosphere created to honor our young learners!
Barat Center Open House
Friday, November 15
9:30amLEARN MORE
Putnam Indian Field School provides an early childhood educational experience that will ignite a love of learning and inspire children to:Be creative and critical thinkers
Have a positive self-image
Bravely take risks
Embrace diversity
Feel responsible for themselves and their world
Be good friends
LEARN MORE
The Preschool is an independent, non-sectarian preschool for children ages 2 through 5 centrally located on 5 acres in Greenwich.
The Preschool's mission is to provide a warm and creative atmosphere to foster young children's social, emotional and intellectual growth through a child- centered curriculum.Call Anna Gruseke at (203) 869-8388 to schedule a parent tour of the campus and classrooms.
LEARN MORE
Round Hill Nursery School is an independent nursery school located in the backcountry of Greenwich for over 70 years, offering a comprehensive learning experience for toddlers through Pre-K. The curriculum at Round Hill Nursery School offers children experiences which encourage growth in social, physical, cognitive and creative areas.Take a tour at the upcoming Open House on Friday, September 27th from 9:30-11am. You'll have the opportunity to meet their Director, Catherine Neiswonger, current parents and see the students and teachers in action. To RSVP or for more information, contact
[email protected] or visit us at www.rhns.org.
LEARN MORE
Temple Sholom Selma Maisel Nursery School is a place where learning and discovery begin! They offer a one-of-a-kind educational experience for families with children as young as six weeks old through pre-school, with both full/part-day options available. Children enjoy learning in our STEAM Lab, Gymnastics Studio, Animal Discovery Room, and unique outdoor playspaces. Their teachers and staff are experienced and professional, and support an individualized approach to education and care. While guided by Jewish values, they welcome families of all faiths, ethnicities and backgrounds.To schedule a tour, contact David Cohen, Director of Schools, at 203-622-8121 or [email protected].
LEARN MORE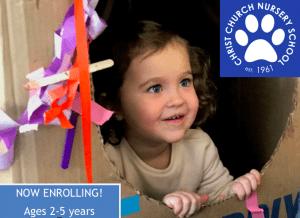 Christ Church Nursery School
Learning through play is at the heart of the CCNS experience. Their curriculum, inspired by the philosophy of Reggio Emilia, builds upon children's natural curiosity and interests. In-depth project work encourages children to be active participants in their learning and to develop the skills needed to explore their ideas, interests and questions in a meaningful way.
– Awaken Curiosity
– Inspire Learning
– Challenge Thinking
Call (203) 869-5334 or Email [email protected] for a private tour today!
LEARN MORE
Little Friends is an independent, year round early childhood program for children from infancy through pre-kindergarten. Their play-based, child centered program fosters children's individual development within a warm, nurturing and happy community.LEARN MORE

First Church Preschool Open Enrollment for the 2020 – 2021 school year begins on October 1st.  Open House Tours are Thursday, October 17th at 9:45 am and Thursday, October 24th at 9:45 am and 7 pm.Call now to schedule a visit 203.637.5430 and see their Nature Classroom!
LEARN MORE
St. Saviour's Church Nursery School
350 Sound Beach Avenue Old Greenwich, CT 06870
203-698-1303Open House for 2020-2021 registration
Thursday, October 24th and Wednesday, October 30th at 10:00 a.m.
St. Saviour's is a place of exploration, inquiry, discovery, and joy. For nearly 50 years, they have been committed to knowing each child's individual interests, strengths, and challenges in order to foster optimal intellectual, social, and emotional development. Through a literature-based curriculum focused on project-based experiences, they prepare our students to be confident problem-solvers, creative collaborators, and strong communicators––eager and well-equipped for a lifetime of learning.
A co-educational, independent preschool located in Old Greenwich, CT, St. Saviour's offers part-day programs for two, three, four, and five-year-old children, and is accredited by the NAEYC.
LEARN MORE
Chabad of Greenwich promises you that every day your child will learn something.
Some days they will bring it home in their hands.
Some days they will bring it home in their heads.
And some days they will bring it home in their hearts.Please find the registration form here.
LEARN MORE
Greenwich Christian Preschool is a non-denominational preschool that is open to all children regardless of race, religion or ethnicity, and we are located on a beautiful 5 acre campus. They offer a high quality preschool program in a loving atmosphere with experienced and qualified teachers, a low student/teacher ratio and an environment that is designed to nurture and encourage learning.Greenwich Christian Preschool has rolling enrollment during the year. Open Enrollment for the 2020-2021 school year will begin in November.
LEARN MORE
YWCA Greenwich Preschool is the only area program that includes Gymnastics, Music, STEAM activities, Spanish, Swimming, Yoga and a monthly Naturalist as part of the regular curriculum and tuition.  The school combines a state-of-the-art facility, a new STEAM Lab and a community of special educators who care deeply about each child's development.  At YWCA Greenwich, our goal is to help every child to be happy, confident, eager to learn, and well-prepared for Kindergarten.LEARN MORE
A Loving and Creative EnvironmentBeginnings through Be4k programs (early 2's through 5)
St. Paul's Day School, a member of the National Association of Episcopal Schools (NAES) and the NAEYC (National Association for the Education of Young Children), welcomes students of all faiths and backgrounds.  We foster the growth and development of each child academically, socially and spiritually.  By encouraging children's natural curiosity and sense of wonder, we provide a foundation for a lifelong joy of learning. We offer flexible extended day lunch programs and enrichments in art, science, spanish and cooking.
​
We would love to meet you and introduce our new director, Lisa Adorno.  For more information visit us at spdsriverside.org or call (203) 637-3503 or come to an information session: October 3 10:30-11:30, October 19 9:30-10:30 or November 16 9:30-10:30
LEARN MORE
Sound Beach Day School is a private program inspired by the Reggio Emilia and Project Approach model of teaching.
Full and half day programs available.Please call or email for a private tour.
Lee Longo
Director
Sound Beach Day School
(203) 569-7545
LEARN MORE