BY KATY NOBLE, MD
This summer, I had a wonderful opportunity to work with Amy Levin-Epstein, Executive Editor of Serendipity Magazine,
in writing a piece on children and art called "Nurture Your Child's Inner Artist" (Sept 2016). In the article, my attention is focused predominately on the benefits of art for children from a developmental perspective, which I find fascinating. This blog post is a follow on, with a more personal perspective and a practical bent.
Working on art projects with my three children over the years has been one of the true joys of motherhood. Art has been a gift to my family: a pure and creative means for me to slow down and connect with my children. Over the years, I've learned that integrating art into family life does not need to be complicated. Using the seasons as your guide (and keeping a bin of art supplies handy) your children can teach you what is possible!



For Fall
In autumn, collect fallen leaves on a hike. Discuss color, size, shape and type of leaves with your children. Arrange and press the leaves with an iron between two sheets of wax paper. Place these sweet pieces of art in your windows at home… they last for months!


During The Winter
Collect materials in plastic bins so you have them ready at any time! Old fabric samples, ribbons, tissue and wrapping paper, extra buttons, beads, and a collection of paints (water color & acrylic), crayons, paper and canvas are a springboard into creative play at home anytime. On a tough winter cabin-fever-kind-of-day, see what's inspired by delving into these bins. When there is not enough of "MOM!!" to go around, your art bin is a phenomenal alternative to TV. Make homemade play dough … add food coloring and a few drops of peppermint oil for a nice scent (see recipe below from my own mother). Or, head outside to sculpt a snowman! Don't forget that the Holidays offer a very special opportunity to create art traditions with your children (and friends). Rather than purchasing presents for family and teachers, consider how meaningful hand-made gifts can be and the sense of pride children feel in making these gifts. In our home, we have made wreaths, paper chains, paraffin-coated decorated soaps, bookmarks, and have painted aprons and kitchen towels, decorated oranges with cloves … and the list goes on!!
"NONNY'S PLAYDOUGH"
Mix together in saucepan:
1 c flour
1 c water
1 /2 c salt
2 Tbs oil
2 tsp cream of tartar, food coloring & peppermint oil
Cook over medium-high heat, stir until it forms a ball …. Be patient while it cools & HAVE FUN! (And it keeps well in air-tight containers!)


In Spring & Summer
Celebrate spring by painting little flower pots with your children and planting seeds! When the heat of summer arrives, throw your young children into swim suits and set out a baby swimming pool full of water in your backyard. Then get out paints and an easel and see how much fun they have both creating and making a mess! (My children elected to bring the paints into their pool!) For older children, bring out canvases and acrylic paint and sit outside on a picnic blanket in your backyard and paint together.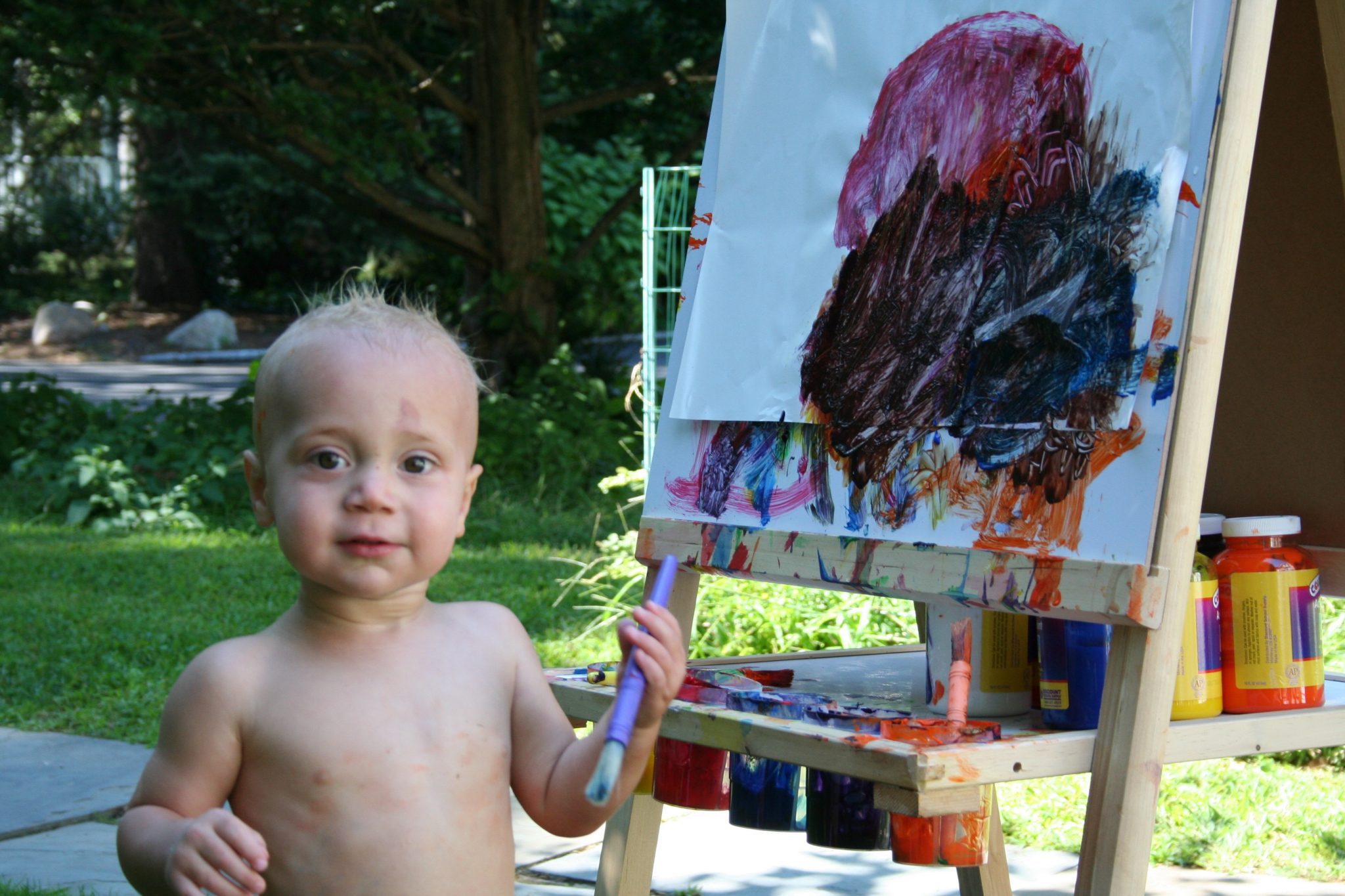 In the End…
I reflect on the lovely moments I've shared with my children not only through the seasons of the year, but also through the seasons of their childhood. My two eldest children are now in middle school and I cannot believe that I am the mother of a teenager! While the life-pace has quickened, and our free time has lessened, (and admittedly many of our art projects are now academically-driven), we approach art with a passion built on years of messy good-times together. We work with creative ambition, building re-enactments of Civil War battles, designing Anglo-Saxon Clothing, and creating 3-D representations of religious architecture. "The days are long, but the years are short, " a dear friend shared with me a few years ago. So true! Cherish your children and celebrate art with them at every step. Your time will be well spent.


Dr. Katherine Noble ("Dr. Katy") graduated Phi Beta Kappa from U.C. Berkeley and received her medical degree from U.C. San Francisco, where she was elected to Alpha Omega Alpha Honor Medical Society. She completed her pediatric residency training at Harvard-affiliated Children's Hospital Boston, one of the leading children's hospitals in the country. There, she developed a passion for taking care of a diverse patient population, particularly those children with very complex or chronic health conditions.
Dr. Katy has had a niche practice since she moved to Lower Fairfield County in 2003. While she held to a part-time working arrangement when her children were young, she has nonetheless been unwavering in her practice philosophy and commitment to her patients. She is now at a point where she can exercise her full professional potential. She is the founder and managing partner of Sound Beach Pediatrics. Dr. Katy and Dr. Henry Rascoff launched Sound Beach Pediatrics together, opening the doors in April 2016. They enjoy a wonderful professional partnership… for both, practicing pediatric medicine is not a job; it is a calling and a passion. Dr. Katy is also a contributing author for Serendipity Magazine and loves to write, teach and speak in the community.
Dr. Katy leads an active life in Old Greenwich with her husband and three children. She loves running, many sports, all things outdoors, music, and classical piano . . . especially when sharing these interests with her family and friends. If she is not working, you are most likely to find her jogging around Tod's Point or wearing blue jeans.