The 2020-2021 academic school year has been one of unprecedented changes and challenges for parents and students alike. With students headed back to school in the fall—whether that means they'll be in person, at home, or some combination of the two—Private Prep's executive functioning coaches are here to help you and your child prepare for success with a weekly five-part webinar series. From time management tips to setting up productive work spaces and everything in between, we're here to help you start the school year off right.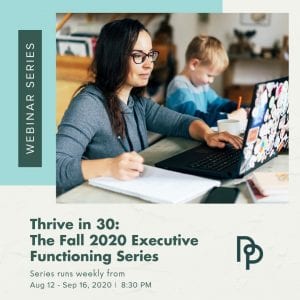 The Thrive in 30 Executive Functioning Webinar Series
PART ONE (SOLD OUT): SIMPLE HABITS OF SUCCESSFUL STUDENTS
Is your child smart but still struggling in school? Motivated to do well on a project but not sure where to start? Join our EF coaching team to learn more about foundational skills tied to time management, organization, and self-reflection that are central to student success. This 30-minute webinar will also feature concrete ideas to help your child develop these skills so as to reach their full potential.  
August 12 | 8:30 – 9 PM EST
PART TWO: MOTIVATION BUILDING AND BEATING PROCRASTINATION
Parents often ask us, "How can I convince my child to value sleep over screen time?" or "What can I do to encourage my teenager to start projects well before they're due?" Join our executive functioning coaches for practical ideas about how to increase your child's motivation for effortful tasks and give them the push they need to get started early.
August 26 | 8:30 – 9 PM EST
PART THREE: SETTING UP A PHYSICAL WORK SPACE
Whether the 2020-2021 academic school year is remote, in person or some hybrid, there's a strong chance that your children will be doing some of their schoolwork at home. Learn the tips and tricks to optimize that workspace and empower your child to independently keep it organized during this 30-minute webinar. Our EF coaches will also share their ideas for organizing student papers so that lockers and backpacks remain manageable.
September 2 | 8:30 – 9 PM EST
PART FOUR: TIME MANAGEMENT & COURSE CORRECTION
Creating a plan that children can execute requires that they be able to accurately assess how much time a given task will take and be flexible enough to accommodate inevitable changes and setbacks. While many of us expect children to develop those skills out of necessity, there are concrete steps parents can take to speed up that process and make your life (and theirs) a bit easier. Join our EF coaches for this 30-minute webinar to learn more. 
September 9 | 8:30 – 9 PM EST
PART FIVE: CREATING STRUCTURE AND USING A CALENDAR
Most of us will readily agree that using a calendar of some sort is important, but what's the best way for children to do that? Learn how to easily teach your child structures around monthly, weekly, and daily planning. This method of calendaring helps children build awareness of the big picture so they can meet their responsibilities more consistently.  
September 16 | 8:30 – 9 PM EST
——–
Private Prep is an education services company that provides a caring, trustworthy team to help students not just succeed but thrive. We are always here to help, if you have any questions feel free to contact us.