Spring has finally sprung, and since it looks like we'll be sticking close to home for another season, we're more excited than ever to work on our garden! We asked Sam Bridge's Maggie Bridge for her best advice for getting a solid start, mistakes she sees new gardeners making, Spring 2021 garden trends and more!
What are some things to be doing right now for spring flower or veggie gardens?
Now is the perfect time for garden planning, spring cleanups and bed prep. You can also do some planting now and things will ramp up quickly as the weather warms. Before you plant, amend your soil. Adding compost or other organic matter to your soil prior to planting goes a long way. Turn it over in existing beds to improve your soil. Go through your garden and clean up anything you missed in the fall. Cut back grasses that haven't been trimmed, snip off old hydrangea flowers (just the tops), remove any leaf debris to make way for new planting or fresh mulch. Go ahead and mulch your beds. It will give you a clean, finished look while helping keep the weeds at bay. The type of mulch is up to you, it's all about personal preference. Stay away from died mulches – red, black etc. As they break down they will deplete the nitrogen your plants need to thrive.
For edibles, sow pea seeds directly in the ground or raised beds now. Many seeds can be planted in the ground now (if cold tolerant) or can be sown inside and brought outside later, when they are ready (warm crops – tomatoes, peppers, eggplants etc. keep inside until May 15!). Cold weather vegetable starts can also be planted now—lettuces, Swiss chard, cabbage, arugula, chives, thyme, sage & more. Pro-Tip: Don't be afraid to plant your greens a little close together. You can harvest the outer leaves of each plant instead of taking full heads at a time. Cover with a frost blanket or old sheet to protect from frost. The frost free date in our zone is May 15. Keep an eye on the nighttime weather until then (32 and below). Fill up your garden with short term crops like greens, as they finish, your garden and the weather will be ready for warm crops. Multiple plantings will give your garden/growing space more turns, producing more food for you and your family.
If you are planning on landscaping with professionals, now is the best time to reach out. Don't wait until May and June when the season is in full swing. Landscape firms book up quickly and with an industry-wide labor gap, often will not be able to service you exactly when you may be ready. Plan ahead. The good news is that you can plant year-round as long as the ground is not frozen. Summer plantings are great thing contrary to popular belief. Regardless of when you did your planting, spring or summer, you would have to water just as much in the summer as you would with an earlier planting. Looking even further ahead, fall is also an ideal time for planting. No matter when you execute your project it's not too late to plant. If your project requires one of the few plants that cannot be planted late, any good professional will be honest with you.
Great advice! What mistakes do you see newbie gardeners making?
One of the biggest mistakes I see is people trying to rush the seasons. Planting warm plants with tender growth too soon is a big one. Things like geraniums, tomatoes and other summer flowers or edibles must wait until after May 15 (if it's a warm year you can push this a week or two). It's incredibly common for our area to get a late frost just when the weather seems fine. Most summer flowers need nighttime temperatures of 55 degrees and warmer. Day temps may be ok, but the nights will get you. Covering for frost is helpful – you don't need anything special as long as you are using a porous material like cotton or burlap. You can also move plants, bring them to a covered porch or in your garage to protect them.
Using Google as your expert [is a problem]. While a lot of the info is great, be careful to note who is doing the writing. That expert may be planting in the south or in a totally different climate than you. Things they may consider hardy are actually considered an annual here or a tropical. Know your zone – Greenwich sits in Zone 6 with some varying winter temps depending on where you are located. North of the Parkway is colder. Choose plants that are hardy to Zones 6 or less, if you really want to be sure, go with Zone 5. If you're ever unsure just ask! Sam Bridge is easily reachable by phone or email and we are always here for questions.
What are some trends for Spring?
Edibles are always popular but now they are at the top of the list. With 2020 bringing food scarcity to the forefront, so many people want to grow their own. There are many ways to incorporate edible plantings into your landscape, even if you don't have a traditional garden space. This can be done by adding edible herbs and greens to border plantings, using containers and raised beds to give you more garden space and even ripping up the front yard and installing a garden. Edibles can be beautiful too. Incorporate a gorgeous fence to keep things tidy and the critters out. Stately trellises can add dimension while your vining fruits and vegetables produce.
Making your landscape a livable, workable space. With so much time at home we want our landscapes to not only look amazing but they should perform equally well for you and your family. Make a list – what are your needs? Do you need more seating? Would you like privacy? Do you need to relax? Do your kids need to run? Landscapes can do all of that and more. Look at making outdoor rooms – you can easily accomplish this without having to do an enormous project. Even adding simple container plantings can soften and define a space.
Planting with purpose. Incorporating native and pollinator plants can leave a big impact on the environment. Did you know that by choosing a native plant you can support hundreds more insect, bird and animal species compared to a non-native ornamental that may support say only 5. Natives also require less care and maintenance and will thrive in your landscape, they love it here! Pollinator plantings are also important. While it's true any plant with a flower is a pollinator plant, there are specific varieties that we can plant that will maximize the support we can provide for pollinators. You might be asking – But won't pollinator plants attract too many bees? I don't like bees because they sting! While bees can sting, honey bees and bumble bees, some of our most important pollinators, will not sting unless threatened. You are likely thinking about wasps like Yellow Jackets. These plants won't call those over. In fact, most good bees won't even be bothered by your presence. You can even brush by them without consequence. TLDR: Save the bees, they won't sting unless severely provoked.
Lavender everything. There are so many amazing NEW lavender varieties on the market. We grow several right here at Sam Bridge Nursery. These new varieties are better growers, have increased flowering and make any landscape sing. You will need lots of sun and GASP poor soil. Take a trip to Provence right in your back yard. Right now I'm loving the 'phenomenal' variety and brand new for 2021, lavender 'sensational.' Plus they're all perennial. By year three they will look exceptionally amazing.
What should you plant for a Mother's Day bouquet?
I love living arrangements for Mother's Day. We fill baskets and pots full of verbena, petunias, alyssum, geraniums, begonias, osteospermum and so much more.
If you're looking for something hardy, early lilacs are great, early viburnum, azaleas, redbud, some magnolias, salvia, cherries & more. Planting a hardy tree or shrub is an excellent way to mark an occasion. You will be able to enjoy its beauty for years to come and every time it blooms you will remember why you planted it.
If you're gardening with kids, what's the easiest way to start?
The biggest thing to remember about gardening and gardening with kids is that it's all about the process. I consider any opportunity to learn a success. Edibles are really fun to do with kids because you get to eat your results. Flowers are also super fun too. If you are seed starting things that germinate quickly are the most exciting – grass and beans are two of the quickest. My favorites with kids are:
Herbs – eat right away
Lettuce
Peas & Beans – the more you pick, the more you get
Tomatoes
Cucumbers
Blueberries
Pansies (they are easy, cold hardy and edible!)
Morning Glories & Moon Flowers — these are fun because morning glories only bloom in the morning and moon flowers bloom at night
Sunflowers – Actually follow the sun as they bloom.
Impatiens – any kind, these make new flowers every single day. That way when your kids pick them all off you still have something that looks good!
Snapdragons
Zinnias
Spring flowering bulbs – plant in the fall – super easy project and they will enjoy them when they emerge in the spring
Summer flowering bulbs and corms – plant in may
Seed potatoes
Onion sets
Additionally I love houseplants for kids once they're past the 'eat everything' stage. I keep a mini orchid in my daughter's room. She (4 y/o) loves it, learns about watering and caring for her plant and as it finishes blooming I swap it out and we start again. The buds slowly swell before they bloom so kids get to watch the process from start to finish.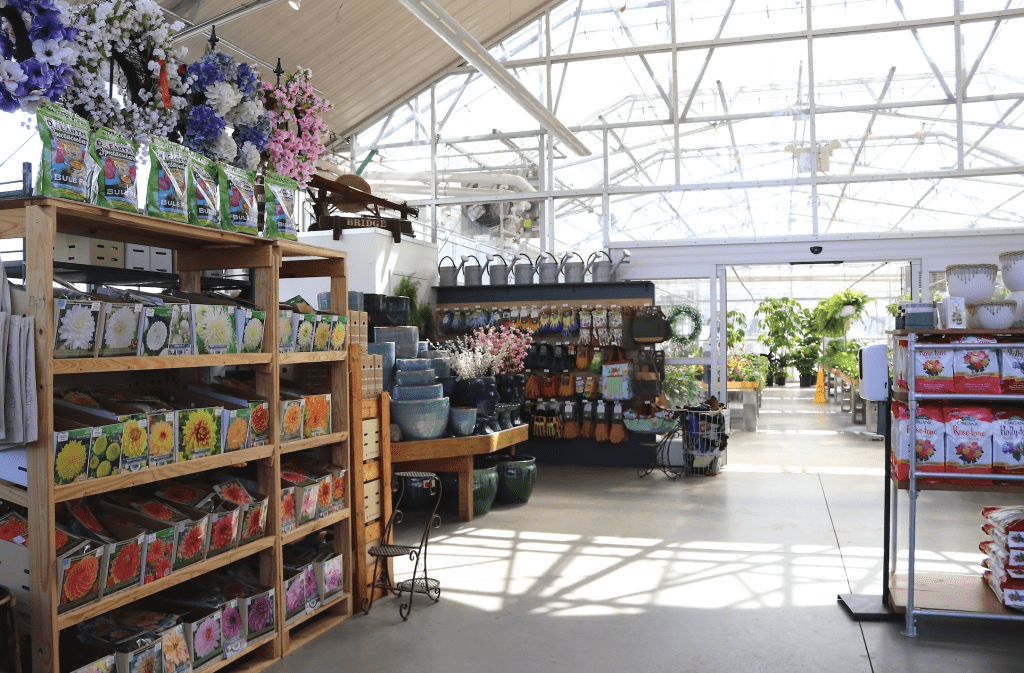 If someone wants help planning from Sam Bridge, what is the process like and how can you help? Do you offer both flower garden and veggie garden help?
We do! We can help you with any size project from start to finish. We offer several landscape services in addition to in-store plant selection and advice.
Landscape Design and Installation:
We truly value artistic collaboration, and our designers are experts at building strong relationships with our clients. From start to finish, our Landscape Design Team is working with you – listening, presenting, fine tuning, and finally implementing your vision into reality. We have 4 amazing designers on staff. Typically we like to start this process with an on-site consultation. For a fee, the designer will meet you at your home and walk the property with you. They will discuss your wants and needs and then what they think will work best with your space. From there you can choose where you'd like to go.  Some people want to move forward with a formal design others an estimate. Some choose to do their whole property while others may complete the landscape of their dreams in parts. Some may only want to do a single garden bed or planting. The sky is the limit and the ball is in your court. After you choose your path, the designer will give you an estimate if they have not already. To move forward with the project we ask for a 50% deposit before starting work, the rest is due upon completion. Trees and shrubs are guaranteed for 1 year after planting.
On-Site Container Design & Seasonal Décor Installation:
Plants have the unique power to transform a space with color, texture and life. Our Container Garden and Seasonal Décor program offers a variety of options to accent your property throughout the year. Container garden plantings are completed at the client's location and may be a one-time installation or seasonal rotations. Containers are an easy way to add finishing touches to a landscape and that special wow factor to any space. Even if you cannot get your total landscape done right away, containers have amazing transformative powers. They can even be given as gifts. Maintenance programs are also available. Additionally our team designs and installs annual flower plantings for color impact, mailboxes, driveway entrance beds, signs, etc., autumn & holiday outdoor seasonal displays. After contacting our team, our Container Specialist will give you a design and estimate after learning more about your space. This can typically be done over the phone or via email. A site visit can also be done if you desire.
Premier Garden Care:
Your garden is a place where you find peace, beauty and serenity. Along with your lifestyle, your garden is constantly evolving. At Sam Bridge Premier Garden Care, we offer a gardener's approach to sustain the garden of your dreams. From bulbs, annuals, and containers we add seasonal color to your landscape. The gardens are kept in a distinguished manner for you to enjoy throughout the season. Our team can visit you once or on a regular basis. We will mulch and edge beds, we offer fine pruning and everything else you need to keep your plantings in tip top shape.