This week's Meet a Mom interview is with Stephanie Leone-Kim, owner of the new La Brosse Blow Dry Bar in Cos Cob. While working in finance in both London and New York City, she  was a regular blow dry client, and became an expert on the subject. Now a mom of two (her son Leo is 5 and daughter Ina is 2), she decided to open her own spot in town. In addition to blow outs, her new business offers several conditioning treatments (including Keratin) and styling services. Memberships range from $85 to $240/month and include extras like hot-tool styling and product discounts.
We spoke to Stephanie about what else separates La Brosse from other blow dry salons in the area, her backcountry family life and more.
Why did you choose to live in backcountry and what do you love about it?
We moved from New York City six years ago. It was initially our weekend home so we wanted a peaceful environment coming from the city. Backcountry was really beautiful and a year later when I had Leo we decided to move to Greenwich full time.
Can you please describe La Brosse for anyone who has not been in yet?
We are a blow dry bar but also do conditioning treatments like Keratin as well as deep conditioning. We do styling like up dos for bridal parties and are starting to offer BYO color—we'll apply it for you. We use the best products to condition before blow dry-we really focus on protecting the hair.
How did you decide to open this business?
I was a client of the local blow dry bar on Lewis Street that was closing and I was friendly with the staff, being a regular there. I was there twice a week! We started talking about it and the staff was excited to come and partner with us. I always loved hair and I have always struggled with my hair. My daughter, who also happens to have curly hair, was starting school in September so I thought this will be my next venture.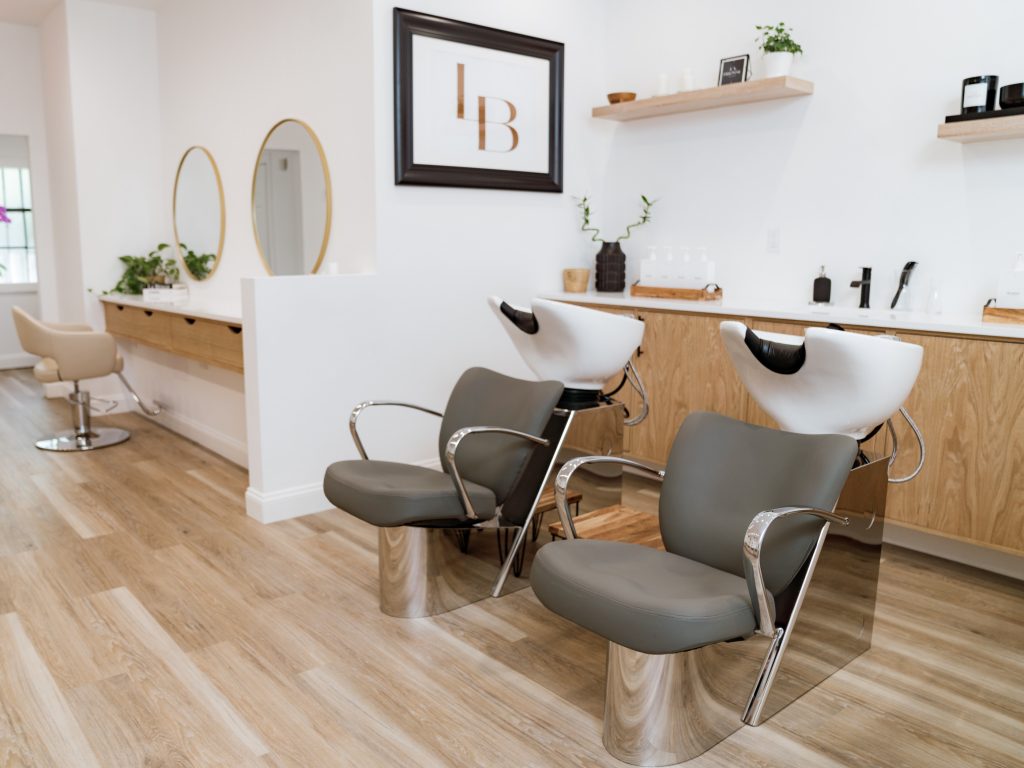 Sounds great! Why did you decide to open in Cos Cob?
I thought it would serve the whole community from Greenwich to Cos Cob to Riverside and Old Greenwich. It's a midpoint and we have great parking as compared to being on Greenwich Avenue.  Cos Cob is really vibrant now with all the new shops and businesses.
How has your own hair—and your daughter's—influenced you to open this business?
I have very curly, unruly hair. My mom is Moroccan and dad is Italian. Since I was 14 years old I have gotten blow dries. And my daughter also has curly hair. I have tried lots of products and I became a blow dry expert. I can tell as soon as a stylist starts if it's going to be good or bad.
What is the key to a fabulous blow out? 
It starts with the product—a great shampoo and conditioner to start. Then we blow dry with product to make it last. And the technique. The stylists that we have here have 10 years plus experience in the industry, which is uncommon.
How important has the Greenwich community been in terms of you launching successfully?
Everybody is spreading the word. There's a lot of professional women here that had high profile careers in marketing or finance so I've gotten a lot of advice from them as to how to market myself. I've had friends in interior design give tips about the space.
You're a volunteer firefighter—what does that entail and what do you love about it?
I joined the Round Hill volunteer fire company when my son started school. I passed the certifications and my Q license which allows me to drive the firetruck. We respond to calls in our area of Round Hill. I was also the treasurer two years and I help with events, marketing.
Anything else you'd like to share?
We are going to start opening October 10th on Sundays by appointment. We are looking to do a special on Wednesdays–20 percent off on Wednesdays.
To contact La Brosse Blow Dry Bar:
Phone: 203-485-0342
Email: [email protected]
217 East Putnam Avenue, Greenwich, CT 06807
(in Millpond Plaza Shopping Center)
This story is sponsored by La Brosse Blow Dry Bar.