Are you tired of gifting the same old baby gifts to friends and dealing with the hassle of a drop ship model that delivers them piecemeal? Well tonight's Meet a Mom, Erin Jensen, Co-Founder of Timo & Violet has created the perfect solution! Timo & Violet is a baby bed and bath brand devoted to creating timeless, whimsical products that honor nature, spark wonder, and are inspired by the world around us. Erin shares with us her inspiration behind the beautiful prints and sustainable materials that make up her products – because sustainability and luxury are no longer mutually exclusive. Erin is a mom of 3 with an incredible career path that has led her to the creation of this latest beautiful brand and the best news is that it can also be found right in downtown Greenwich on East Elm Street! 
Keep reading to discover why this newest baby line is so special and how Erin manages it all!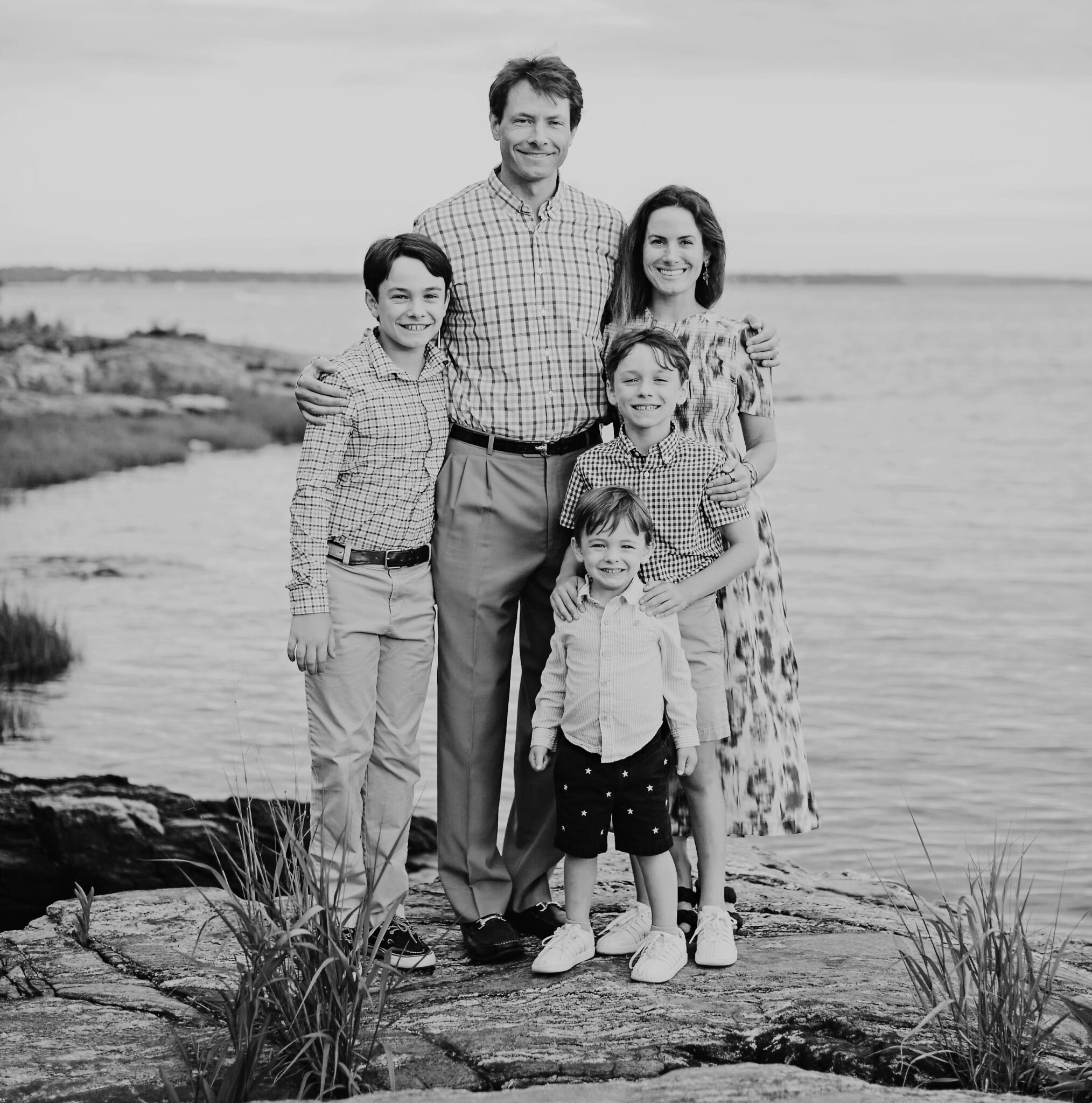 Can you please tell us a bit about yourself personally? Where do you live, and names/ages of kids, etc.?
I've lived in Greenwich for over six years now and am a mother to three energetic boys, ages 3, 9, and 11. I am also the Co-Founder of Timo & Violet, a sustainable baby goods company, and am passionate about living a sustainable lifestyle, embracing the beauty of the world around us.
I love to be outside and experience nature. Growing up, I used to horseback ride six days a week until I left for college. Living here in Greenwich surrounded by many of the top equestrian facilities brings me tremendous joy when I drive around and am reminded of my riding days. Greenwich is home to so much nature and I am grateful to be a part of such a beautiful community and raise my children here.
One fun fact about me is that I was a boxer in college, and in my senior year I became co-captain of the University of Notre Dame Women's Boxing Team. I like to think that this prepared me for being a mother to three boys.
Where do you live in Greenwich and what do you love about your neighborhood? What made you decide to move there/ how long have you been there?
We live in mid-country Greenwich, and one thing I love about our neighborhood is that even though we don't have the comfort of sidewalks that many parts of Greenwich have, there are still quiet streets that we can walk and run on that take you all the way to town (roughly three miles away). I also feel grateful that we have gotten to know many of our neighbors, and we have friends who are within walking distance which means our older children have some independence. I grew up in South Salem, NY which is not far from Greenwich, but the first time I really remember experiencing the wonderful Greenwich neighborhoods is when I ran the Tod's Point half marathon many years ago. I was absolutely blown away by the beauty of Old Greenwich and Riverside, and I said to myself that if we ever had the opportunity to move to Greenwich, that's where I'd want to live. A couple years later when our oldest son entered Kindergarten at Brunswick though, my husband and I thought it would be helpful to be a little closer to school, so that's how we ended up where we are.
We are so excited Timo & Violet has come to Greenwich, for those of us who are not familiar, can you tell us more about it?
Timo & Violet is a baby bed and bath brand devoted to creating timeless, whimsical products that honor nature, spark wonder, and are inspired by the world around us. We commission original artwork, create prints from them, and then craft them into bibs, towels, blankets and more, using fabrics that are incredibly soft and sustainable.
What led you to launch Timo & Violet?
My co-founder, Ronit Weinberg, and I had very similar experiences when selecting baby gifts for friends and colleagues. We both ordered gifts on a marketplace website, and then learned the hard way that each part of the gift was shipped separately at different times (the drop ship model). So even though I purchased a blanket, onesie and socks, my friend received the socks first and because she's so quick to write thank you notes, she wrote a beautiful note thanking me for the socks. It was funny that Ronit and I experienced similar gifting bloopers around the same time, but it wasn't until a year later when she was working on a project for a well known interior designer that she approached me about the opportunity in the bedding and bath space, but for children. I was in the thick of caring for our toddler, Timo, and said "yes" right away, even before she vocalized the full proposal. Aside from Ronit being the one friend and colleague that I always wanted to create something with, I couldn't think of one children's brand at the time that cared equally about sustainability and beauty. I had long wondered why the textiles in the baby space were not necessarily the prints and designs that we wanted inside our own homes and everyday lives, and that if we could create something that makes a new parent feel beautiful while feeding her newborn baby (and inevitably getting spit up on), we'd have a homerun!
What is your professional background and what did you do before starting Timo & Violet?
I am grateful to have had many different career opportunities, all embracing my curiosity and desire to learn. Throughout my career, I have held many different roles, but am glad they all brought me to where I am today. After college I worked in Sales at a financial software company in New York City, and then attended business school at Harvard. After getting my MBA I moved to San Francisco and worked for Google, first in its Online Sales & Operations organization under Sheryl Sandberg, and then in Sales & Marketing at YouTube not long after the Google acquisition. It was an exciting time to be at YouTube as there was immense pressure to figure out how to make it a profitable venture, so I got to work on special projects and be Chief of Staff for the Head of Sales & Marketing, Suzie Reider, an incredible mentor who I still keep in contact with today. It was her urging that led me back to New York City, where I joined the fledgling eCommerce team for Theory (the contemporary apparel brand) under the leadership of Tracey Strauss. That's also how I met my co-founder, Ronit, as she led all of Digital and Retail for Diane von Furstenberg, a neighboring brand in the Meatpacking District of NYC. I'll try not to bore you with all the specifics, but after I had my first son William in 2011, I partnered with Ronit on various eCommerce projects. My favorite one to this day was when we presented an eCommerce plan for The Row when I was eight and a half months pregnant with my second son, Walker, trying to keep it all together and running around NYC. During this consulting period I also had the honor of partnering with my father-in-law, Josh Jensen, who was a bit of a legend in the wine industry. After much convincing (this is why I'm a founder because I have a tough time taking no for an answer in the business world), my husband and I got the green light to build the DTC business for Calera Wine Company, the California-based wine label. Fast forward a little bit, I had a slight pivot and joined a Bay Area-based technology executive search firm, where I partnered with numerous tech founders and CEOs to help them build out their C-suites. My last stop before founding Timo & Violet was being a People leader for a large tech company. All of these varied experiences have helped me get to this point, and I trust that as Timo & Violet grows, I'll draw upon all my recent People experience (some call it "HR" but it's truly more strategic than that), to make decisions that take all stakeholders under consideration.
Can you share what separates Timo & Violet from other children's brands out there?
Sustainability and luxury are no longer mutually exclusive. (Thank you Stella McCartney!) Something can be soft and organic. Something can be organic and full of color. I believe that what separates Timo & Violet from other children's brands is our colorful, whimsical prints, but also the softness of our textiles. When we set out to create the first collection, we wanted to present an entire nursery collection that included bedding, bath, and all the small items in between such as bibs, burp cloths, and swaddle blankets. Our crib sheets and quilts arrive in approximately six weeks, so while we didn't manage to get them here in time for the launch, we didn't want to sacrifice anything and it took us a little longer to select the best fabric quality. It's a combination of organic cotton and TENCEL lyocell (which is spun from wood pulp) so these sheets will be incredibly soft but also cooling which is important for baby skin. We didn't want to sacrifice quality, even if it meant a slight delay. The other important point of differentiation is that we hope we've removed some of the friction in gifting. When you buy something from Timo & Violet, you have the option of selecting our beautiful gift packaging, which includes a branded gift box made from recycled paper tied with an ivory or violet ribbon with a handwritten note. We also partner with the organization Ecologi to plant a tree in various damaged habitats around the globe for every order placed online or in-store, and we love the symbolism and significance of the growing tree alongside one's growing baby.
The prints on your products are gorgeous, can you share a bit about their inspiration?
My co-founder and I share a love of art and color. Even my children know that one of my favorite colors is marigold yellow, as we have these beautiful swivel chairs in a cheerful yellow hue that somehow we all want to sit in. I like to think it's the color but now thinking more about it it's possible the boys just love a good spin! I also love Farrow & Ball paints, and when we partnered with the artist, Aurélie Baudry, on our original artwork, I had my Farrow & Ball fan deck with me at all times as Ronit and I wanted to be very intentional about the colors in our prints and marry them back to interiors. Our first collection which you can see now on our website and in our East Elm Street studio includes our take on the delicate and evocative Chinoiserie landscapes that were fashionable in interior decor in Europe from the 17th century. We also continue to be inspired by butterflies and how they symbolize transformation and hope, so we wanted to give butterflies their own moment by pulling them out of our Tropical Chinoiserie landscape and allow them the freedom to flutter on their own. For me there's nothing that gives us greater hope than the birth of a baby! And lastly, we wanted to paint a beautiful underwater scene to capture another element of the natural world and honor our planet's oceans. Our "Under the Sea" scene lives on its own in our bibs and blankets, but we also pulled certain elements from it to create our "Coral Reef" print, which was a true collaborative (and fun!) effort between Ronit and me. We have another beautiful scene for fall that I can't wait to share, but we wanted to keep things tight at launch.
Any big trends you are seeing in what people are gifting? What is your go-to gift for a new baby?
This is a tough question, but I have to say gift sets have been a hit. Our customers want gifting to be frictionless and fun, and they want us to present options at different price points that are robust and beautiful at all levels. We're about to launch monogramming in-store and on our website, so I anticipate that many customers will want to purchase a monogrammed hooded towel set along with a beautiful coordinating bib and burp cloth. We created the collection to be modular, so almost all of our pieces can be mixed and matched. The piping on our towels marries back to the colors in our prints, so you can't go wrong if you decide to build your own set. I personally love to gift our embroidered shawl blankets or our Tropical Chinoiserie shawl blanket and matching bib, and then throw in one of our bathrobes or ponchos for an older sibling. Soon we'll have additional prints available in our robes and ponchos, and larger robe sizes too. Those have been very popular!
What do you like most/ least about being a small business owner?
I've learned so much about the business from the first 100 customers. I really love it all. There's something so special about having a retail location right from the beginning, as we can carefully test our hypotheses and see customers interact with the product. We love feedback and we strive to improve every day. (Please don't be shy!) As someone who spent a lot of time at technology companies, I know this will help us achieve product-market fit faster than if we were purely online. Lastly, it's great to be part of the Greenwich community. We love our neighbors at Greenwich Shoe Repair, Little Eric and Smart Kids, and when we found our spot we were so happy to be part of what I like to call "Kid Row".
What is your working mom mantra?
We can do hard things! Regardless of whether we're working for someone else, working for ourselves, working for our children, or a combination of the three, it's all hard. The most important thing I've learned in the last couple years is that it's critical we schedule time for self-care. I try to meditate for 20 minutes every day and build in time to exercise. On the days I don't get to meditate I really feel it, and I feel that that anxiety is felt by my children, too. It's only by taking care of ourselves that we can take care of everyone else in our lives. It's worth repeating that it's not selfish to take care of ourselves. We as women need to remind ourselves of this every day. In addition, surround yourself with positive energy and good role models. Lastly, never underestimate the power of joy!
Anything else you'd like to share?
I love chocolate and it was a sad day when I learned that chocolate chip cookies were not part of the new food pyramid.
We love to support local businesses. What are your fave places locally to:
Grab coffee: Raphael's! They had me with "chouquette!"
Workout: Countdown Fitness, Core Burn Pilates, Fitscape with Fiona, or simply running around the neighborhood
Go on a date night: Happy Monkey
Go out for a girls night: East End or Hinoki
Go out to dinner as a family: Terra
Get your hair done: Ariel and Rabih at Maison d'Alexandre
Get your nails done: Posh Nails
Have fun as a family: The wonderful hiking trails around Greenwich: Babcock, Audubon, Mianus, or Tod's Point