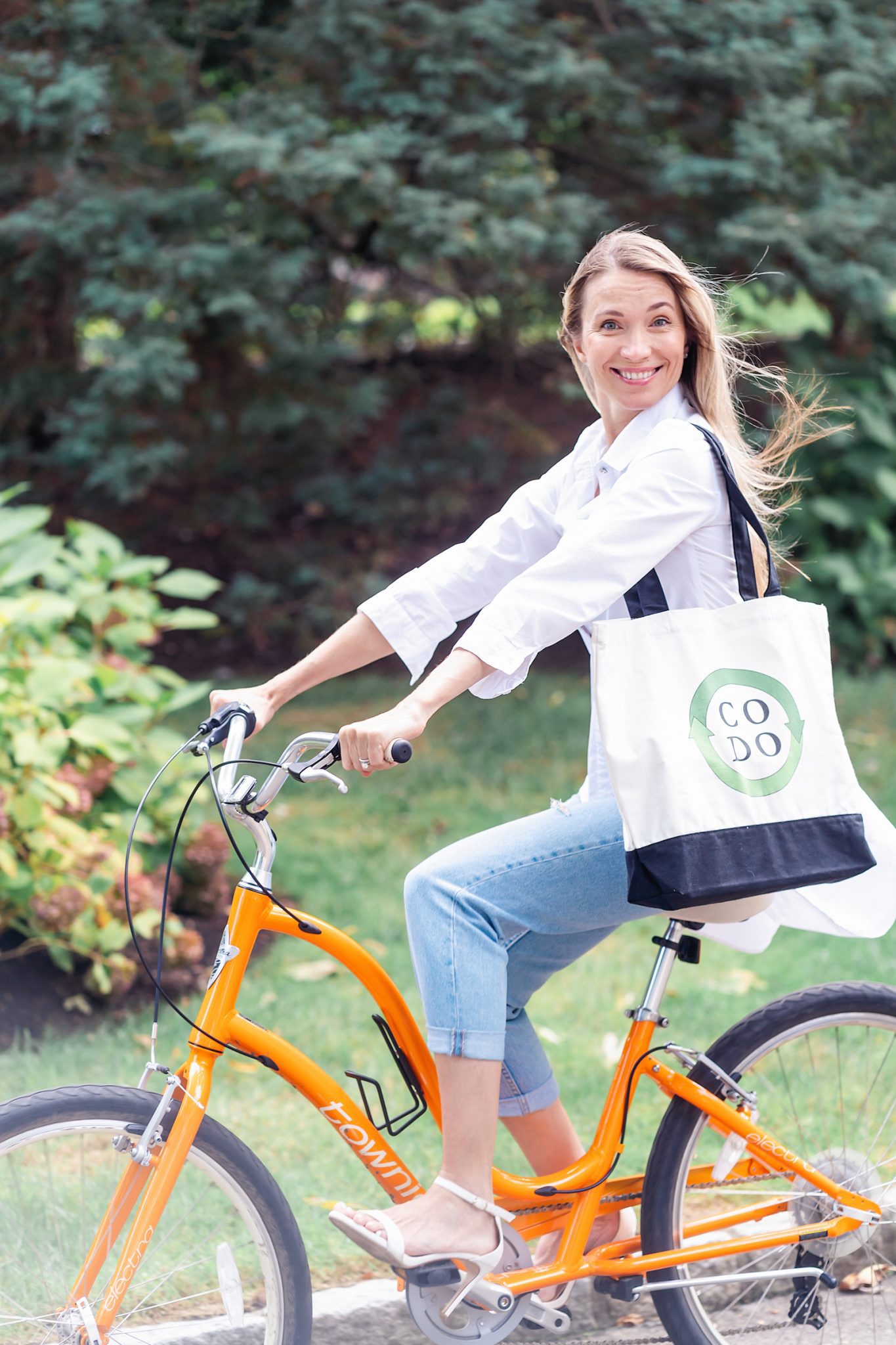 This week's meet-a-mom is Yulia Omelich! This Greenwich mom of two opened the doors to COUTUREDossier in 2010; the uber-stylish store is currently located at 43 Greenwich Avenue (having moved from Chappaqua several years ago). We spoke to Yulia about her gorgeous shop, her life in Greenwich and her passion for sustainable fashion.
Would you please tell us a bit about COUTUREDossier?
I am proud to say that since 2010 COUTUREDossier has been a sustainable company, providing our customers with both an eco-friendly and affordable path to high-end fashion. Our customers save up to 70% off of retail by shopping our collection of authenticated, pre-loved designer handbags, accessories and garments by Chanel, Hermes, Louis Vuitton, Gucci, Prada and many more. Our biggest pride is our refashion service, which upgrades customers' vintage garments into contemporary sensations: a sustainable choice that extends the garment's lifespan and helps preserve our planet's resources. 
Where do you live in Old Greenwich, and would you please share a bit about your family?
I live in Old Greenwich with my husband Andrey and my two boys, Kirill (21) and Leo (11). We moved to Old Greenwich right before Kirill left for college because we fell in love with the area and the community. As for the business, moving it to Greenwich Avenue was always a dream of mine, and I feel so blessed that the community welcomed us with open arms and open hearts.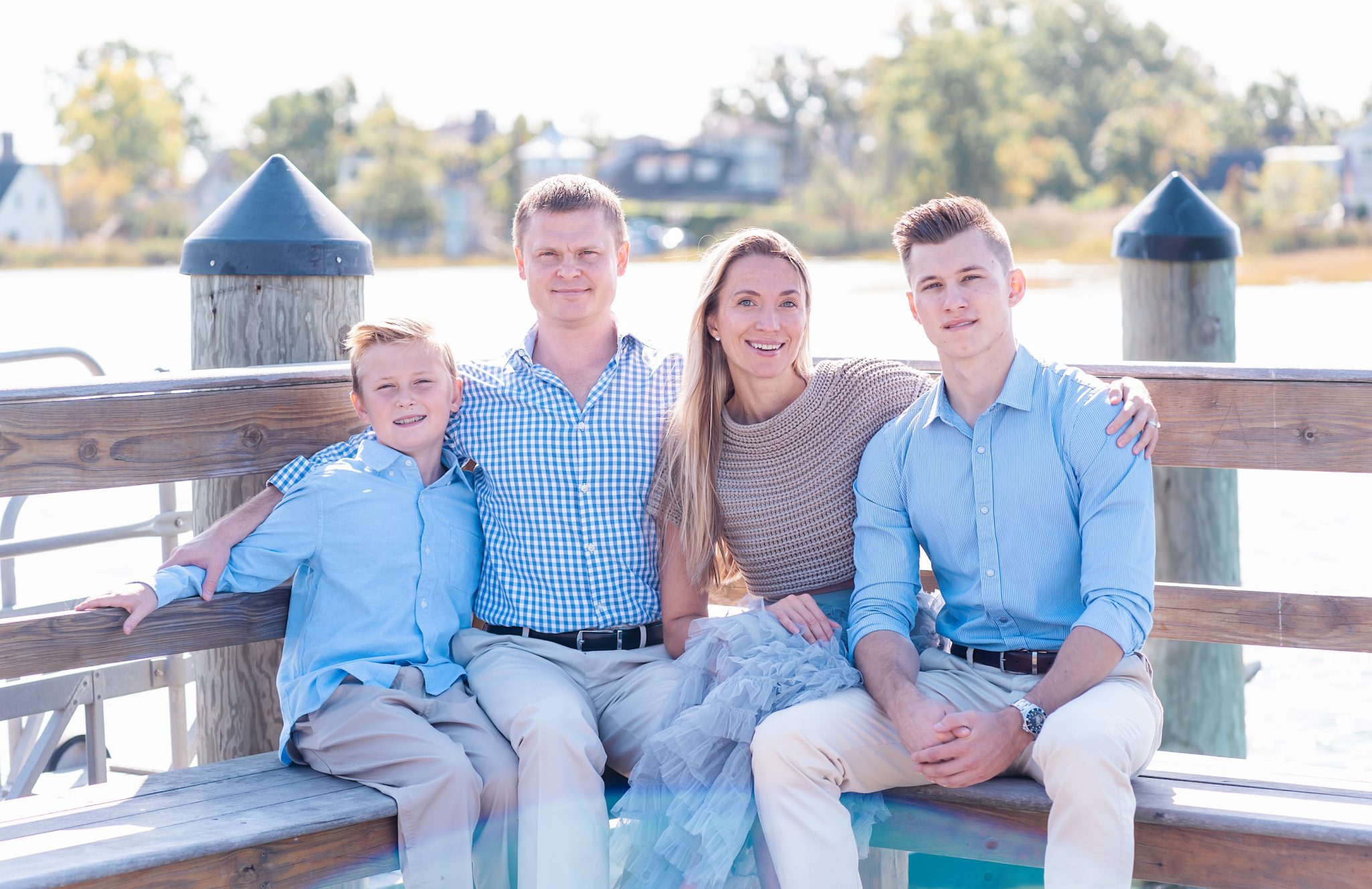 Why did you go into sustainable fashion?
I wanted women to take a smart, Wall Street portfolio approach to fashion, because luxury fashion if acquired right can be an investment and there are ways to own it while being smart with your money and caring for the environment at the same time. The more I worked in the fashion industry, the more I was concerned about how much it pollutes our planet and violates human rights. That's why I wanted my business to offer our customers an alternative way to look good and feel good about their fashion choices.
What makes fashion "sustainable"?
Fashion is one of the world's top most polluting industries, accounting for 10% of the global carbon footprint. For perspective, global aviation accounts for just 2%. Did you know that to make one pair of jeans and one t-shirt uses 5000 liters of water–enough for one person to drink for 7 years. Every time a new clothing item is made, resources are wasted and old clothes are dumped into landfills; about 11 million tons of American textile waste is sent to the landfill per year with synthetics taking hundreds of years to decompose! Clothing can be sustainable if its lifespan is extended. It can be achieved by reusing, recycling, reselling or by refashioning existing garments into "new" fashion. The goal is to curb the demand for fast fashion, which will force the supply to shrink! 
What surprises people about your store when they come in for the first time?
The elegant ambiance of our store is a big surprise for our customers. Sometimes, people wonder if the pieces can be tried on, because the store looks more like a fashion gallery to them than a store. Also, people are surprised by our prices! We have items for every budget, as our prices range from $30 to $50,000. 
How do you source the pieces you offer?
After almost 10 years in business, we have amassed an extensive list of private and fashion business clients as well as estate law firms from which we source our inventory. Many customers choose to bring their luxury fashion assets to sell with us at up to 70% commission, which is much better than what other online resellers offer, not to mention that our in-store process is much more straightforward. We like to work with unique and sough-after collectors' items and investment pieces in brand new or like new condition. You can learn about our resale program on our website, www.codogirl.com. 
What do you wear most often in your daily life?
I love to wear my own creations. It makes me so happy when women stop me in coffee shops, school or on the street and ask, "who are your wearing?"  I am a self-taught designer, and compliments from my fellow moms mean the world to me! My off-duty/mom uniform is the same as my work uniform. People can spot me at Whole Foods in a Dior tulle dress with my CODO reusable shopping bag! 
We love to support local businesses. Would you please share your favorite places to:
 Go to dinner without kids
My favorite dinner spots are Le Fat Poodle, L'Escale and Le Penguin.
Go to dinner with kids
With the boys, we always go to OG Social, Garden Catering, Renapoli, Miku, and Pasta Vera.
To do something as a family
Chess is one of our favorite family games, but we also love biking, swimming and picnic-ing at Tod's Point with the boys.
Go shopping for yourself  (other than your store…)
It is a difficult question because I love to wear my own creations. However, I enjoy contributing to and supporting the local economy and businesses such as She La La, Saks and Peserico! I am also super excited for the new Aritzia store opening up on the 'Ave.
Go shopping for your kids 
We like J.Crew and Vineyard Vines on Greenwich Avenue. My boys also enjoy finding amazing deals at TJ Maxx in Norwalk.
Get coffee
My favorite coffee stop is the Granola Bar. They have been such amazing and supportive neighbors, and my staff and I love going there.
Workout
Tod's Point and Kaia Yoga
Get your nails/hair/etc. done (any pampering places!)
My favorite nail salon is Top Nails and Spa in Greenwich. I get my hair done in Indulge Salon in Old Greenwich. Love my hair after each visit, and the service there is impeccable!