Meet Alessandra Messineo Long, an attorney and mom of three (Declan Michael, 16, Isabella Maria Long, 14 and Sophia Antonina, 11) who has lived in Riverside for 15 years. Over that time she's become well known in the area for her commitment to giving back, including serving as the President of the Junior League of Greenwich. We spoke to Messineo Long about raising a family in Greenwich, her passion for philanthropy and recently taking on new challenges in her career.  
What do you love most about raising kids here?
The fact that that we can live in an area that they can appreciate nature and the outdoors and also enjoy a cosmopolitan environment at the same time. Our proximity to the city, the beach and the mountains is very important to me, as well as having the access to a healthy dose of culture and the arts. 
Your children have excelled in areas from sports to dance to music to art. How has Greenwich helped you introduce your children to these activities?
With 3 children I have experienced a lot with them in this town. From rec sports to travel sports, music classes, art, ballet and gymnastics. Here are some highlights:
Declan played soccer, baseball, golf and hockey (and one season of lacrosse) as well as flag football. He played 3 instruments and acted in the school plays…This included OGRCC Thunder Travel Baseball Program, Cal Ripken Baseball Program, Greenwich Soccer Association Travel Soccer, golf (he plays for Innis Arden in the Junior Golf Program as well in some of the Met Jr. PGA tournaments and in the Pro/Junior most years); hockey – Greenwich Skating Club, Mid Fairfield Hockey, the Oilers, and Connecticut Junior Rangers before playing for The Gunnery where he is currently playing for his school (hockey, soccer and baseball).  
Isabella played many seasons of OGRCC Basketball, OGRCC Soccer, Greenwich Youth Lacrosse, field hockey, Flag Football and participated in Brownies and Girl Scouts..She attended Dance Adventure, Connecticut Ballet, and  Greenwich Ballet Academy before attending Ellison Ballet in NYC where she studies ballet currently.  
Sophia attended Tumble Bugs and Chelsea Piers Gymnastics, Greenwich Soccer Association Travel Soccer and OGRCC Soccer.  Action Arts classes..and for years has taken semi private classes with Felicity Kostakis…She also takes tennis clinics at Innis Arden Golf Club and some golf clinics. Then also some Music Together classes when they were little and Graham Clarke of course! 
They certainly have been involved in Greenwich activities! How have you encouraged your kids?
I believe truly that ones success does not come at the expense of another persons.  It's all in the effort and it's in the give back. We should work together and lift each other up in life and support one another. If you work hard, you have a kind heart, good intentions, a strong work ethic, talent and a little luck with the grace of the angels in your corner, well hopefully your life will be what you hope. That doesn't mean it won't be a difficult road to get there and there will not be failures, disappointments and things that don't work out due to circumstances you can't control. It's all in how you handle the setbacks which in the end will propel you forward. I am a realist but I am also not about to squash their dreams.  
Wonderful outlook! Can you tell me a bit about your law practice?
 I am currently the Founder of my own firm specializing in Wills, Trusts and Estates and Business Law…with a few sexual abuse cases. This is a result of reinventing myself after a break from practicing law to raise my children after moving here from California and focusing my efforts on my non for profit endeavors exclusively. I found that most law firms and companies really were not willing to pay me my worth after that break and given that fact I was also not willing to give up my flexibility with my children.  So I probably work harder than ever, and I work all the time but I control the schedule to be there for my children. 
What inspired you to take on these heavy cases involving sexual abuse?
We could talk for days about this one. I took this case for several reasons, first and foremost because I felt like this young woman had nowhere else to turn, and in good conscience I couldn't let her down. No, I had never worked on this particular type of case before. Yes, I had worked on contract cases and a sexual abuse case but not combined. I had to walk beside her on this one and try to figure it out. Another reason I took it on was karma in that I had been dealing with another sexual abuse situation which occurred at a private school in town and navigating the criminal court system in Stamford in order to ensure a teacher who was a pedophile did not have further access to children if I had it in my power to do so, that way that teacher couldn't not do the damage that still plagues my client 30 plus years later. The experience has been emotionally draining, spiritual, disheartening and rewarding all at once. 
 I find it absolutely despicable that schools hide behind settlement agreements which include non disclosure clauses and confidentiality clauses, at the expense of the safety of the public and the safety of our children and that administrators and colleagues would come to the defense immediately of an individual of someone without ever hearing the facts…that they would choose to protect the institution over the welfare of their student body or the public at large. So my mission is to educate parents and victims that if it does happen to you or to your child, take the steps necessary to bring justice (criminal or civil or both whatever you are comfortable with).  If everyone would just stop behavior when they suspect it and speak up, then they could protect against further victims.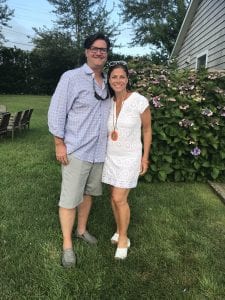 Thank you for doing this important work! And speaking of important work, can you tell us a little bit about your involvement in community service?
I received a Community Service scholarship in high school as it has always been part of my fabric. I served on many committees and held numerous Board positions in the Junior League of Greenwich culminating in the role of President of the Junior League. A goal which I never set for myself but an honor I am very proud of. 
What do you love most about the Junior League of Greenwich?
The Junior League is a wonderful organization of woman which really makes a difference in our community, an
d we can see it all around us in the brick and mortar projects our community enjoys as well as the other projects that have been turned over the community which found their start from the JLG. The Junior League is also an incredible training organization so many nonprofits and school boards in our town benefit from our members expertise as well as town government. 
And are there other causes near and dear to your heart?
I also have been a Board Member of the American Red Cross for several years – The Red Cross does so much incredibly important work dealing with disasters around the world and protecting  our community with our Sound the Alarm Initiative not to mention our blood drives; I am one of the first female Board members of the Old Timers Athletic Association which funds many of our local sports organizations and provides scholarships for local athletes and I am the Chair of the Donations Committee; I am an advisor to a Non Profit called Calisto which is piloting sexual abuse reporting technology; I am a former Board Member of the Dispute Settlement Center where I was fundraising director and secretary, and on the Advisory Board Member of Abilis…I have also contributed for several years to assist on committees such as Planned Parenthood, the Boys and Girls Club Youth of the Year, RAMPkids(K4K)and of course have done numerous volunteer positions at my childrens schools.   
How do you find balance, between all of your charity commitments, your work and your family?
We strive for balance in our lives and sometimes one area has to give for another temporarily. We make choices thinking that there will be better balance.  But really it is just a constant state of imbalance, and we are all just trying to balance it all – children, husband, extended family, friends, career, volunteer pursuits, personal goals….the list goes on. It's a constant struggle to be the best I can be as there are not enough hours in a day for the demands and that is when sometimes one just has to opt out every once and awhile…and just have some FUN!   
Fantastic! Speaking of fun, where do you go with the kids, and without the kids, when you're not working?\
With the kids: Louie's and Meli Melo
Girls Night: Douro, East End, The Spread
Date Night: L'Escale, Le Fat Poodle or for special occasions – Thomas Henkleman!
Coffee: Drawing Room or Sweet Peas or Aux Delices in Riverside or Ada's
And where do you go for a day out with the family?
Todd's Point; Innis Arden Golf Club; Greenwich Skating Club
If you had one day to yourself in Greenwich, what would you do?
That is a tough one…I never have a day to myself! I would go for an early run at Todd's Point with my running friends…then to Yoga at the Water Club with my instructor Peggy. Or I would do Soul Cycle with my friend Sue…then go have a Vanilla Almond Latte from Ada's and maybe a Smoothie too (or a breakfast burrito if I want to splurge)!  Maybe hit some golf balls at the range at Innis Arden…A Quick Salad at Aux Delices or Sweetpeas with a friend…Then in a perfect world, buy an outfit at Fred and shoes at Lily…in Old Greenwich. Then…meet my girlfriends for cocktails at either Le Fat poodle or L'Escale outside on the patio on the water…assuming we are talking a nice day….and have a lovely dinner…and maybe catch some live music if Merlin—my friend Bob's band—is playing somewhere….the husbands can meet us out to dance!! But this is assuming the kids are not around!