Next up in our series of spotlights on Greenwich Small Businesses is a category we all need to focus on this year—self-care. Support these amazing businesses and yourself by clicking through and making an appointment. Be sure to follow us on Instagram @greenwich_moms so you don't miss anything in this series!
The Spa at the Delamar Hotel, 500 Steamboat Road, Greenwich (as well as Southport and West Hartford)
Opened: July 2007
This boutique spa offers facials, high-tech face and body treatments, waxing and body massages, as well as an array of beauty products like Biologique Recherche, Valmont, 111 Skin and Joana Czech. You can also pick up exclusive perfums from France – Moncera, as well an array of home fragrances and lifestyle from Culti Milano. "We help some local women jewelry designers, by selling their exquisite, one of a kind pieces in our spas. We carry some incredible wraps, and loungewear from a women owned company in California – Wrap-up," adds Julia Petrini, Director of Spas.
 COVID Precautions:
Reduced capacity on all bookings – max 50%
Staggered check-in and check-out
No common area opened ( no lounges, no locker room, etc)
Introduced some new neck, decollette, arm and legs treatments while the guest is wearing the mask.
Adapting existing treatments to the new mask requirements
All staff is wearing medical grade PPE , masks, gloves and face shields.
Greenwich Medical Spa, 1285 E. Putnam Road, Riverside, CT (as well as Westport CT, Ridgefield CT, Scarsdale NY)
Opened: 2005
Greenwich Medical Spa provides advanced cosmetic procedures in a spa-like environment. "We offer premium and non-surgical, minimally invasive procedures including facial rejuvenation treatments, injectables (dermal fillers like Juvederm as well as BOTOX), and advanced procedures such as CoolSculpting, Emsculpt for fat reduction and body contouring, and Ultherapy for skin lifting and tightening" shares owner Marria Pooya. All treatments are overseen by a team of certified estheticians, nurse practitioners and physician assistants, as well as a board certified dermatologist and medical director, Mitchell J. Ross, M.D.
COVID Precautions:
Screening all staff members prior to starting any work shift and conducting in depth, ongoing safety training.
Disinfecting of all surfaces and high-volume touch points throughout the day in addition to in between every patient using medial grade sanitizing products.
Spacing out patient appointments in order to minimize patient contact with other patients and staff.
Plexi-glass at check out counters and ask that all guests maintain appropriate social distancing as indicated in the stores.
Scheduling deep cleaning for the office daily prior to opening.
Removal of all product testers.
Office is closed to walk in visitors. All appointments may be made over the phone and they are happy to process any retail product orders for curbside pick-up or for home delivery through website. They also  ask that patients arrive for their appointment alone and with a face mask. Temperatures will be taken, hands will be sanitized, gloves will also be provided to all patients. They ask that patients limit their belongings to their keys, cell phone and wallet. Also, patients answer prescreening questions and remain in vehicle until appointment time to limit the amount of patients in office. Also, all payments are touchless.
Maison D'Alexandre, 33 Lewis Street,  Greenwich
Opened:  July 1 2017
Founder Alexandre Chouery says his objective is to offer the absolute highest quality in every detail to his clients while at the same time to feel "chez toi"  at home. Maison D'Alexandre's staff of highly trained artists offers a luxurious range of hair services from color and balayage, to  texturizing, style and cut. "We believe that healthy hair begins with a healthy scalp; our Bespoke Hair & Scalp Therapies are both effective and pampering and have become one of our most popular services since the stresses of COVID have definitely affected the health of our clients' hair," explains Alexandre. Their makeup artist and eyebrow specialist, Vera, was voted Best Makeup Artist Greenwich in 2020 by Greenwich Magazine. While at the salon, clients can stock up on luxury haircare products including Leonor Greyl, Renee Furterer, and Milbon, as well as makeup and skincare ones like Terry and Revitalash.
COVID Precautions: At Maison D'Alexandre, the  temperature of all guests is checked prior to entering the salon. Every person in the salon  is required to wear a mask at all times during services.  Six feet of space is created between clients, while keeping the salon capacity at 50%.  The salon has also  installed plexiglass barriers between each shampoo station and stations are sanitized between each visit. "For clients who prefer a more private experience, we offer early morning or late evening appointments or outdoor services when the weather allows," says Alexandre.
Mary Heaven Acupuncture, 1081 East Putnam Ave., Riverside
Opened: 2019
Mary Heaven Acupuncture is known for total mind, body, & soul restoration. "I am best known for trigger point acupuncture for chronic pain, Traditional Chinese Medicine meridian therapy for psycho emotional healing ( anxiety, depression, PTSD), Cosmetic Facial Acupuncture &  the ultimate Gua Sha Sculpting Facial ( think lift, tone, glow & achieve supreme calm with this 60-minute experience)," says owner Mary Heaven.
COVID Precautions: Masks are required. All surfaces are cleaned with medical grade cleaning supplies (this has always been the standard). Treatments are by appointment only. "I only see one patient at a time, no waiting room," explains Mary. Patients are pre-screened for COVID and must fill out a COVID waiver form. "If patients have been exposed or traveled, I ask for negative test results to be furnished," she adds.  Appointment cancelation fees are waived in the event of any cancelation due to COVID ( exposure or developing symptoms).
Dr. Inna Lazar – Greenwich Eye Care, 13 Arcadia Road, Suite 18, Old Greenwich
Opened: 2016
"At Greenwich Eye Care, we're here to provide you with a wide array of services. Our family eye care services cover pediatric eye care, glasses, contact lens exams, and more. Additionally we specialize in hard-to-fit contact lenses, custom made contact lenses, non-surgical vision correction, myopia management and dry eye treatment," shares Dr. Inna Lazar. Their friendly office staff will answer questions, recommend products, and talk to you about all that Greenwich Eye Care can help with.
COVID Precautions: "To help our community fight COVID pandemic we are committed to further adhere our policy of seeing only one patient at a time in our office to provide maximum secure environment, as well as allow enough time with the doctor to obtain answers to all your questions. Additionally we implemented extensive cleaning and disinfecting protocols between patients and at the end and the beginning of the working days. We also offer extended office hours and telemedicine options to make sure we are available to your regardless of your physical location," says Dr. Lazar.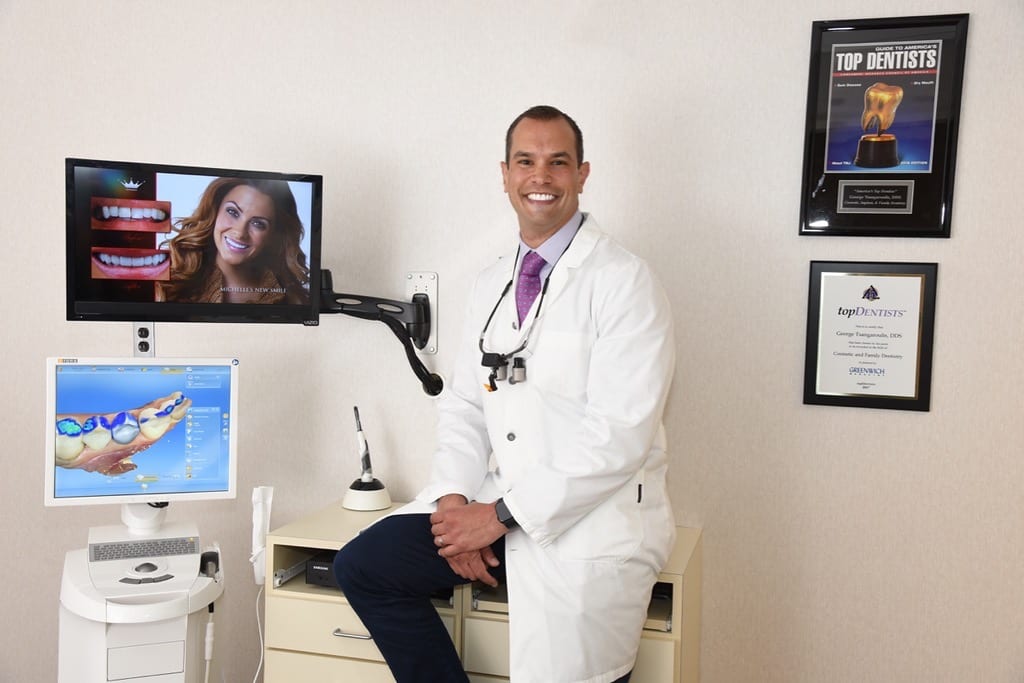 Greenwich Cosmetic & Family Dentistry – Dr. George Tsangaroulis
This unique ultra-modern dental boutique helps patients achieve optimal oral and overall wellness and smile aesthetics through state-of-the-art treatments, innovative technologies, and comprehensive patient education and prevention. "At our practice we don't just check our patients' teeth for cavities," says Dr. George Tsangaroulis. "Our focus is functional and facially driven cosmetic dentistry and we provide beautiful, natural-looking porcelain veneers and composite bonding.  But we also put an emphasis on prevention, overall health and the mouth-body connection for both adults and children.  So that one day our patients might not need braces, Invisalign or veneers.  It's critical to evaluate the development of their jaws, jaw joints, tooth alignment and how they are impacted by the airway, breathing, nutrition and oral habits," he says. When patients come in, Dr. Tsangaroulis asks patients questions that not only pertain to the health of their teeth, but also their overall health: diet and nutrition, quality of sleep, history of sinus and ear infections, allergies they may have, which can have a significant impact on their future oral health, and even cognitive and behavioral development. "By seeing both the parents and children in our practice we can predict patterns of tooth and facial development because these are many times hereditary.  One thing you won't find at this practice is a rushed appointment: "Our appointments are not 15-30 minutes long like many dental practices. We're a lower volume practice and we reserve dedicate more time so to each of our patients so they have our full undivided attention.  and This also allows us to provide more thorough cleanings,  personalized examinations and customized strategies to maintain beautiful, healthy smiles for a lifetime!"
COVID Precautions: We reopened our practice May 17th, 2020.  Aside from providing advanced complete health dentistry, patient safety is our top priority.  We have implemented multiple safety measures and protocols, including an advanced air purification and sterilization system throughout our office.  Our entire team has also received the COVID-19 vaccine.