Community Centers, Inc. of Greenwich (CCI) will hold its 6th Annual Spring Luncheon at the Belle Haven Club on Thursday, April 6. The fundraiser will begin at 11:30am and feature event planner, David Monn, author of 'The Art of Celebrating.' Event proceeds will benefit CCI's education and support programs.
"Community Centers, Inc. is delighted to have David Monn 'the Architect of Style' speak this year at our Annual Spring Luncheon," said Carol A. Memishian, CCI Board President. Memishian continued, "Mr. Monn is a talented author, artist and designer, who shares our deep commitment to the people we serve- those living in public housing."
Monn is best known for his broad range of artistry, from intimate private parties to noteworthy events such as the White House State Visit, the Metropolitan Museum of Art's annual Costume Institute Ball and a performance production, "In the Void," at the Park Avenue Armory in New York. During CCI's Luncheon, Monn will present his work using a slideshow and be available to autograph copies of his book, priced at $75 each. A portion of book sales will go directly to CCI. "We are very much looking forward to hearing about his extraordinary work on April 6th, and raising awareness for all the work we do in the community," said Lauren Franciamore (LCSW), Executive Director at CCI.
CCI offers a combination of educational and therapeutic recreational programs, individual, family, group counseling, and advocacy. As a non-profit social service agency, CCI has served the Greenwich community, particularly those living in subsidized housing, for over 60 years with a mission to build skills that empower clients to overcome educational, social, and economic barriers. For tickets please visit CCI online (ccigreenwich.org). For more information please contact CCI by phone (203-869-1276).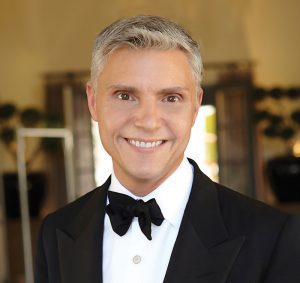 About David Monn: 
David Monn, dubbed "the Architect of Style," is known for his elegant taste, exquisite attention to detail, discipline and refinement, and genuine appreciation of the five senses. As an expert and spokesperson on defining modern living, David is passionate about making your environment more beautiful with light, simplicity and authenticity.
David is best known for his broad range of artistry, from staging intimate private parties to creating memorable events such as the White House State Visit, the Metropolitan Museum of Art's Costume Institute Ball, the Park Avenue Armory's performance production, "In the Void," the Centennial Celebration for the New York Public Library, and many more. Before working as an event planner, David worked in the fashion, interior design and jewelry industries. He continues to impact the way people think about beauty for their homes, corporations, celebrations and weddings. David's success is based in part on his commitment to beauty which intends to transform the ordinary into the extraordinary. To view photographs of David's work and to learn more about this author, designer and artist, please visit www.davidmonn.com.
About Community Centers, Inc. of Greenwich: 
Community Centers, Inc. (ccigreenwich.org) is a Greenwich-based social service agency dedicated to building skills that empower clients to overcome educational, social, and economic barriers. For over 60 years, CCI has offered, free of charge, homework clubs, tutoring, after school and summer enrichment programs, therapeutic counseling, supportive social groups, and ELL and American Citizenship classes. Social work services are at the core of all our work. CCI's services and outreach programs serve approximately 1100 individuals annually and the number of people relying on these social services is growing. We have become, through our work and dedication, a symbol of hope, advocacy, reliability and success: Care, Counsel, Inspire