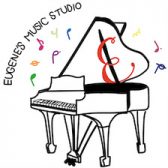 Sign up today for your private lessons, and receive 10% off your first lesson!
We offer private lessons on all instruments for all ages!
Private Lessons
30min · 45min · 60min
$42 · $62 · $78
Piano – Classical and Jazz
Winds
Strings – Suzuki and Traditional
Guitar – Acoustic and Electric
Brass
Percussion
Voice
Theory and Composition
Join our Early Childhood Music program for ages 4 months to 6 years! Your first class is always free! View our schedule here. Do you have a new class you would like to add to our schedule? Let's get together three or more of your friends!
In every class, we aim to nurture your child's developmental growth! Your child will explore many musical instruments, including those from the orchestra. You will surely find us dancing, singing, laughing, and playing throughout the year where there is boundless energy to be shared. We look forward to making music with you at our studio and in your hearts.
You can size your instrument, and purchase your books and accessories at our
studio, or we'll send your instrument right to your front door! One complimentary lesson for all new students when you rent a band or orchestra instrument.
The Benefits of Renting
Flexibility – You can return, exchange purchase your instrument at any time
Accumulate money toward the purchase of the instrument while renting
Our repair and maintenance plan is included in your rental fee
Our instruments are set up and ready to be played
We make the band rental process easy
We carry educator approved band instruments
We have a trusted name with more than 30 years of experience in the industry
Schedule your piano tuning just in time for the fall semester!
Check this off your to-do list before your schedule gets crazy. Fall is
the perfect time to tune because of the weather/humidity change affecting your piano.
Having your piano regularly tuned will keep your piano sounding great, extend your piano's life, and keep you eager to learn! Finding a qualified tuner is time-consuming and tricky! We send you the very best so you can rest assured that your piano is in good hands. We will remind you when your scheduled tuning is coming up so you don't have to worry about scheduling the appointment yourself!